The medtech industry in Europe has seen rapid growth over the last few years. According to Medtech Europe, the average global R&D investment rate in the medtech sector (R&D spend as a percentage of sales) is estimated to be around 8%.
As a result, from venture capital to private equity, Europe is now home to a wide variety of medtech investors who are looking for promising startups to invest in.
What is Medtech?
MedTech, short for medical technology, is a field that applies new and disruptive technologies to the healthcare system. Examples of these technologies include devices for diagnosis, patient care, treatment and improvement of a person's health. MedTech involves all the equipment, tools, and devices which are employed to diagnose and treat a patient.
Medtech or Healthtech?
The field is in constant expansion, many terms have emerged to refer to innovations in the healthcare area, such as the term 'Healthtech', which sometimes is mistakenly used as a synonym for 'Medtech'. Although both terms refer to the implementation of disruptive technologies in this field, 'healthtech' is a wider term that focuses on the prevention and management of diseases, while MedTech provides treatment support through diagnosis, patient care, and treatment tools. Therefore, Medtech is a part of HealthTech that takes care of therapeutic and diagnostic parts using medical machinery, software, devices, and tools. 
Current MedTech market
According to the information provided by Globalization Partners, the medtech market in Europe is estimated to be roughly EUR 150 billion, being Germany, France, the UK, Italy, and Spain the main markets. According to manufacturer prices, the European medtech market accounts for 27.3 % of the global market, which means that Europe is the second largest medtech market (after the U.S.).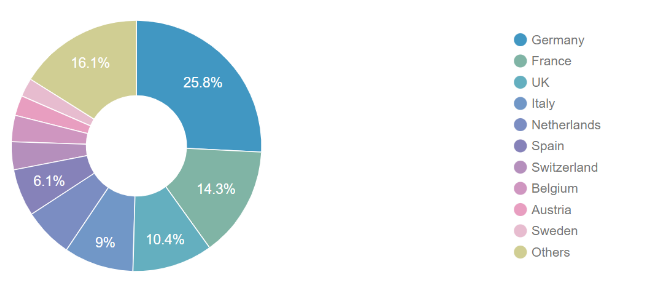 Figure 1. Main European countries in the medtech market. Source: Medtech.
There are more than 34,000 medical technology companies in Europe, most of them based in Germany, followed by Italy, the UK, France and Switzerland. The sector employs 800,000 people, which accounts for 0.3 % of the employment figures in Europe. Small and medium-sized companies (SMEs) make up around 95% of the medical technology industry, and most of them are small and micro-sized companies.
The spending on medical technology ranges from around 5% to 12% of the total healthcare expenditure, but it varies significantly across European countries. Expenditure on medical technology per capita in Europe is at around €284.
Medtech companies in Europe
According to the HIMSS report, around 80% of health systems will intend to increase their investment levels in digital healthcare within next five years, which means that more investments will be made in medtech startups to boost the flow of innovations.
Following the information gathered by Tech Magic, these are some examples of innovative healthcare companies in Europe to watch in 2023:
Top European MedTech Funds
In 2020, there was an impressive venture funding activity in the medtech industry due to the COVID-19 pandemic. In 2021, most businesses returned to their normal operations, but the medtech field continued growing and it reached its highest-ever annual funding total by the end of 2021.
According to an Evaluate Vantage analysis, it amounted to $9.9 billion, but according to Fiercebiotech it amounts to over $10 billion, thanks to the inclusion of massive rounds from startups like Noom, XtalPi and Insitro that were left out from Evaluate Vantage's list. With those added, 2021's total raises to $11.2 billion.
The following VC are considered the most active investors in 2022 and 2023 according to Sifted and Dealroom.
Calm/Storm Ventures
The Vienna-based healthtech VC, Calm/Storm Ventures, launched Calm Storm 1 in 2020, investing at the pre-seed and seed stage with a budget worth €20 million. So far, it has sponsored 53 startups.
Nina Capital
The healthtech venture capital firm Nina Capital was established in Barcelona in 2019 and supports entrepreneurs from pre-seed through Series A in the US, Europe, and Israel. In September 2021, it unveiled its second fund, the €42 million Nina Capital Fund II.
High-Tech Gründerfonds
The 2005-founded German VC, High-Tech Gründerfonds, made the top seed stage and German VC listings on Sifted throughout the summer. With pledges totaling more than €400 million, High-Tech Gründerfonds announced the first closing of its fourth fund, HTGF IV, in June. The investing era began in 2022's fourth quarter.
Parkwalk Advisors
Parkwalk invests in spinoffs from UK universities and research institutions, focusing on deep tech businesses with patents that can be defended or expertise in handling pressing issues. Digital health, medical devices, genomics, drug development, and therapeutic platforms are its areas of concentration in the healthcare industry.
Capital Cell
The equity crowdfunding platform Capital Cell was established in Barcelona in 2014 and only focuses on the biotech industry. The platform has made 71 million euros worth of investments since its introduction, with rounds having a maximum size of €2 million.